Recent Posts
About us
Founded in 2014, Career Henan Chemical Co. is mainly engaged in fine chemicals; has the capacity of customized synthesis and subsequent scale-up production. For more cooperation, welcome to contact us.
Advantage product-Customized New carbazole-CAS: 869335-97-7
Overview
The structure of carbazole compounds has the following characteristics :
Carbazole rings are easy to form relatively stable positive ions;

Large conjugated systems and strong intramolecular electron transfer;

Generally high thermal and photochemical stability;

The carbazole ring is easy to undergo structural modification to introduce a variety of functional groups;

The special structure of carbazole makes its derivatives have a wide range of potential applications in such fields as photoelectric materials, dyes, medicine, supramolecular recognition, etc.,

and have been extensively researched and developed
 in recent years.
Carbazole derivatives as organic photoelectric materials, are currently the most widely studied and the best effect of the main materials. In recent years, with the rapid development of solar cell devices, the development of organic photosensitive dyes has attracted more and more attention. Carbazole compounds are widely used in the preparation of organic photosensitive fuels because of their good hole transport performance and high energy gap.
Coreychem-Customized series of Carbazole derivatives
9H-Carbazole, 3,6-bis(1,1-dimethylethyl)-9-[2-(methoxymethoxy)-5-methylphenyl]-
CAS: 869335-97-7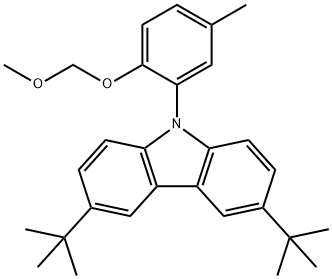 Purity: 98%, white powder, supply of KGs
9H-Carbazole, 2,7-bis(1,1-dimethylethyl)-9-[2-(methoxymethoxy)-5-methylphenyl]-
CAS:2231775-42-9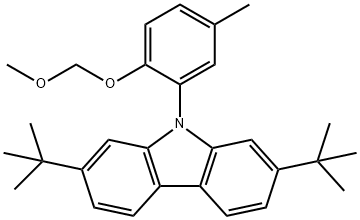 Purity: 98%,white powder, supply of KGs
9-[2-(Methoxymethoxy)phenyl]-9H-carbazole, CAS : 1554162-51-4

    Purity: 98%,supply of KGs
9-(2-(Methoxymethoxy)-5-Methylphenyl)-9H-Carbazole, CAS : 869336-00-5

   Purity: 98% ,supply of KGs
Carbazole derivatives are a class of diphenylamine molecules with isoelectronic structure, perfect rigid conjugated planes, blue fluorescence, good delocalization,
high stability, strong electron donating ability and good hole conduction ability, and are a new type of organic photoelectric functional materials with great potential.
Applications in organic photoluminescence, electroluminescence and nonlinear optical materials have attracted increasing interest. Because there are two identical benzene rings connected to heteroatom N,
it is easy to form branches at the 3-position and 6-position of carbazole and flexibly change the number of branches on the aromatic ring, so it is a good grafting parent nucleus.
Grafting is often completed by functional group reaction, and the synthesis of carbazole derivatives with specific functional groups is the basis for the preparation of carbazole organic photoelectric functional materials.
Product Manager: joy@coreychem.com