Recent Posts
About us
Founded in 2014, Career Henan Chemical Co. is mainly engaged in fine chemicals; has the capacity of customized synthesis and subsequent scale-up production. For more cooperation, welcome to contact us.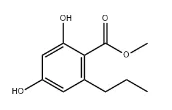 | | |
| --- | --- |
| Chemical name: | 2,4-dihydroxy-6-propyl-benzoic acid methyl ester |
| Cas No; | 55382-52-0 |
| Molecular Formula: | C11H14O4 |
| Formula Weight: | 210.23 |
| Apperance: | Powder |
| Purity: | 98% |
| Storage conditions: | Keep away from light and store at low temperature. |
| Product introduction: | The intermediate of CBD/THC |
2,4-Dihydroxy-6-propyl-benzoic acid methyl ester (2,4-DPBAME) is a synthetic organic compound that is used in the manufacture of pharmaceuticals and other organic compounds.
It is also used in biocatalysis, as a reactant in organic synthesis, and as an intermediate in the synthesis of other organic molecules.
Description:
2,4-DPBAME is a white, crystalline powder that is insoluble in water and has a melting point of approximately 150 degrees Celsius.
It is a strong acid, and when heated, can give off an unpleasant smell. Because of its reactivity, it must be handled carefully and stored in an airtight container.
Chemical Properties:
Pale yellow solid
Uses:
2,4-DPBAME is used in synthesizing polymerization catalysts, which are compounds that speed up the polymerization process.
It is also used in the synthesis of pharmaceuticals, such as antibiotics, antifungal drugs, and anti-inflammatory agents.
2,4-DPBA is also used as a stabilizing agent in the food and beverage industry, as well as a stabilizer for cosmetics, rubber, and plastic products.
It can also be used to treat wastewater and treat wastewater-contaminated soil.
Contact us for more information!
Product manager: emma@coreychem.com