Recent Posts
About us
Founded in 2014, Career Henan Chemical Co. is mainly engaged in fine chemicals; has the capacity of customized synthesis and subsequent scale-up production. For more cooperation, welcome to contact us.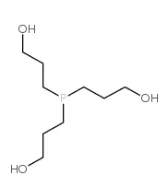 Product Name: Tris(hydroxypropyl)phosphine (THPP)
Product Category: Reducing Agent
CAS: 4706-17-6
Molecular Weight: 208.24
Appearance: Colorless to light-yellow transparent liquid
Purity (P-31 NMR): 98%
Reducing Power (Titration Test Method): ≥86%
Pack Sizes: 10g, 100g, 1kg, 10kg, 100kg
Product Description:
Tris(hydroxypropyl)phosphine (THPP) is a highly effective disulfide bond reducing agent primarily used in DNA sequencing.
It exhibits excellent reactivity towards disulfide bonds, including those present in biologically important cysteine derivatives.
The compound remains stable under both acidic and alkaline conditions, making it a versatile reducing agent for various applications.
Applications:
1. DNA Sequencing: THPP is widely employed in DNA sequencing due to its ability to reduce disulfide bonds efficiently.
2. Hydrogel Beads Preparation: THPP can be utilized in the synthesis of hydrogel beads for nucleotide sequencing applications.
3. Biosensors: It is a key reagent for developing biosensors used in biological analysis.
4. Phosphorus-containing Antibacterial Polymers: THPP plays a significant role in the preparation of antibacterial polymers containing phosphorus.
Our Capabilities:
1. Scale of Production: We possess mature production capabilities for THPP, capable of meeting kilogram-level demands.
2. Product Purity: Our THPP boasts a high purity level of 98%, ensuring its effectiveness in various applications.
3. Reducing Power: With a minimum reducing power of 86%, our THPP guarantees reliable performance and results.
For more information about our product, please feel free to contact our dedicated product manager:
Email: amber@coreychem.com